This map displays the number of transit days for delivery via UPS ground services from the location of Goerend Transmission, to anywhere within the 50 states and Puerto Rico. Transit days displayed on this map are approximate.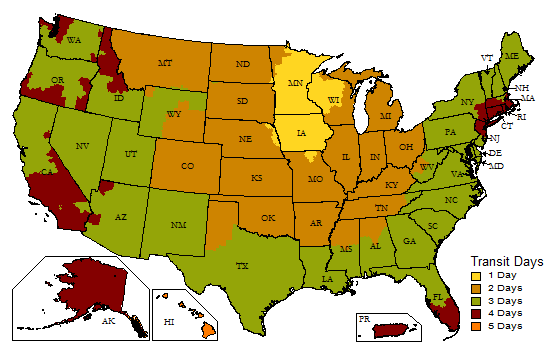 The core that is returned to Goerend Transmission must be an unmodified and usable core of the same model, the core removed from the vehicle prior to new installation. When we receive a usable core of the same model that has not been modified, the core charge will be refunded with a credit to your credit card. If cores have been previously modified, a minimum fee of $150 retail will be deducted from the core refund. The core charge is a deposit, not the price to keep your core. If any of these instructions are not followed, you may not receive your full core credit and other charges may be applied. Warranties will be void if cores are not returned to Goerend Transmission within 45 days.
Before sending in your torque converter core:
1. Drain the core. Place upside down for at least 24 hours to allow fluid to drain out. A hazardous material clean-up fee will be charged if core is not drained properly.
2. Place your core in the same heavy duty box it was shipped to you in.
3. Place the hub cap back on the converter hub.
4. Use sufficient packaging to send back your converter. Any damage that happens while in transit will be the responsibility of the customer and may affect the core refund.
Before sending in your valve body core:
1. Package the valve body core in a heavy duty sealed plastic bag.
2. Protect the valve body with sufficient packing material, it is extremely fragile. Any damage that happens while in transit is the responsibility of the customer and may affect the core refund.
Goerend Transmission is proud to support our military personnel and veterans with a 5% discount on all retail products. Please contact us to inquire about our military discount.
Warranties from Goerend Transmission are specifically limited to the torque converter purchased from Goerend Transmission. Warranties apply to any potential manufacturing defect inside the torque converter. Warranties do not cover any outside influences on the torque converter. There is no warranty on stock stators. Warranties do not include loss of time, use, towing, installation, freight, or per diem damages. To transfer a warranty, your original invoice must be provided.
Goerend Transmission may not be held responsible, under any circumstances, for incidental and consequential damages that may occur arising from, or in connection with the installation or use of any Goerend Transmission product. The Customer agrees to accept full responsibility for any consequential damages or liabilities, indemnifying Goerend Transmission upon purchase and installation of any Goerend Transmission products. This includes all use of Goerend Transmission products in a competition, high performance, or any street driven vehicle and shall indicate an awareness that the customer is modifying said vehicle for competition, and may operate it in a potentially hazardous environment.
While we try and ensure that all details, descriptions and prices which appear on the Goerend Transmission website are accurate, errors may occur. If we discover an error in the price of any goods which you have ordered we will inform you of this as soon as possible and give you the option of reconfirming your order at the correct price, or cancelling it. If we are unable to contact you we will treat the order as cancelled. If you cancel the order and have already paid for the goods, you will receive a full refund.
By placing an order you are offering to purchase a product from the Goerend Transmission website and are subject to the following terms and conditions:
1. All orders are subject to availability and confirmation of the order price.
2. Dispatch times may vary according to availability and subject to any delays resulting from postal delays or force majeure for which we will not be responsible.
3. You must be over 18 years of age and possess a valid credit card or debit card issued by a bank acceptable to us.
4. When placing an order you undertake that all details you provide to us are true and accurate, that you are the authorized user of the credit or debit card used to place your order and that there are sufficient funds to cover the cost of the goods.
International customers should call Goerend Transmission before placing order. Orders are not guaranteed to ship the same day they are placed. Orders placed after 12:00 PM CST will be shipped the following business day, subject to availability. Please contact Goerend Transmission if a rush order is needed. Any order with expedited shipping is subject to availability of the part; if the part is not available to ship on the same day it will be shipped with the chosen shipping option the day it is ready. After-hours or weekend orders will be processed the next business day. We do not accept returns after 15 days of the delivery date unless there are extenuating circumstances. We may at our discretion refuse to authorize your return or charge up to a 20% restocking fee on uninstalled parts. Cancelled orders may be subject to an administrative fee of up to 5%.
Goerend Transmission obeys the state of California's Proposition 65, known as the Safe Drinking Water and Toxic Enforcement Act of 1986. All products listed on the Goerend Transmission website, and all products sold by Goerend Transmission may expose individuals to chemicals that can cause cancer and reproductive harm. California law requires this warning to be given to customers in the state of California. For more information, visit www.p65warnings.ca.gov.