Rebuild Kit, Master
Allison 1000 6SPD (2006 - 2016)
Availability:
Current build time of 10-12 business days.
Description
This kit is intended for a professional transmission technician who has proper equipment to clean, inspect, test, and rebuild a transmission. Goerend Transmission is not a technical or training service. Customers of this kit are expected to have access to and be proficient with necessary equipment such as scan tools and pressure gauges. This kit does not include every part that may need replacement.
---
What's in the box?
(1) transmission pan kit

(1) lightweight cast-aluminum transmission pan
(1) magnetic drain plug
(1) copper sealing ring

(1) billet steel C3 clutch cooling PTO Cover Set

(1) driver side PTO cover
(1) passenger side PTO cover

(1) valve body shift kit
(1) valve body repair kit (depending on vehicle year)
(1) pressure regulator spring installation tool
(1) Torrington needle bearing kit
(1) C1 clutch plate pack

(1) C1 clutch backing plate
(8) external spline C1 clutch friction plates
(8) internal spline C1 clutch friction plates
(1) C1 clutch steel apply plate

(1) C2 clutch plate pack

(8) .085" C2 clutch steel plates
(7) C2 clutch friction plates
(1) .100" or .070" C2 clutch steel plate

(1) C3 clutch plate pack

(1) C3 clutch backing plate
(6) C3 clutch steel plates
(6) C3 clutch friction plates

(1) C4 clutch plate pack

(6) C4 clutch steel plates
(6) C4 clutch friction plates
---
Articles
Stalls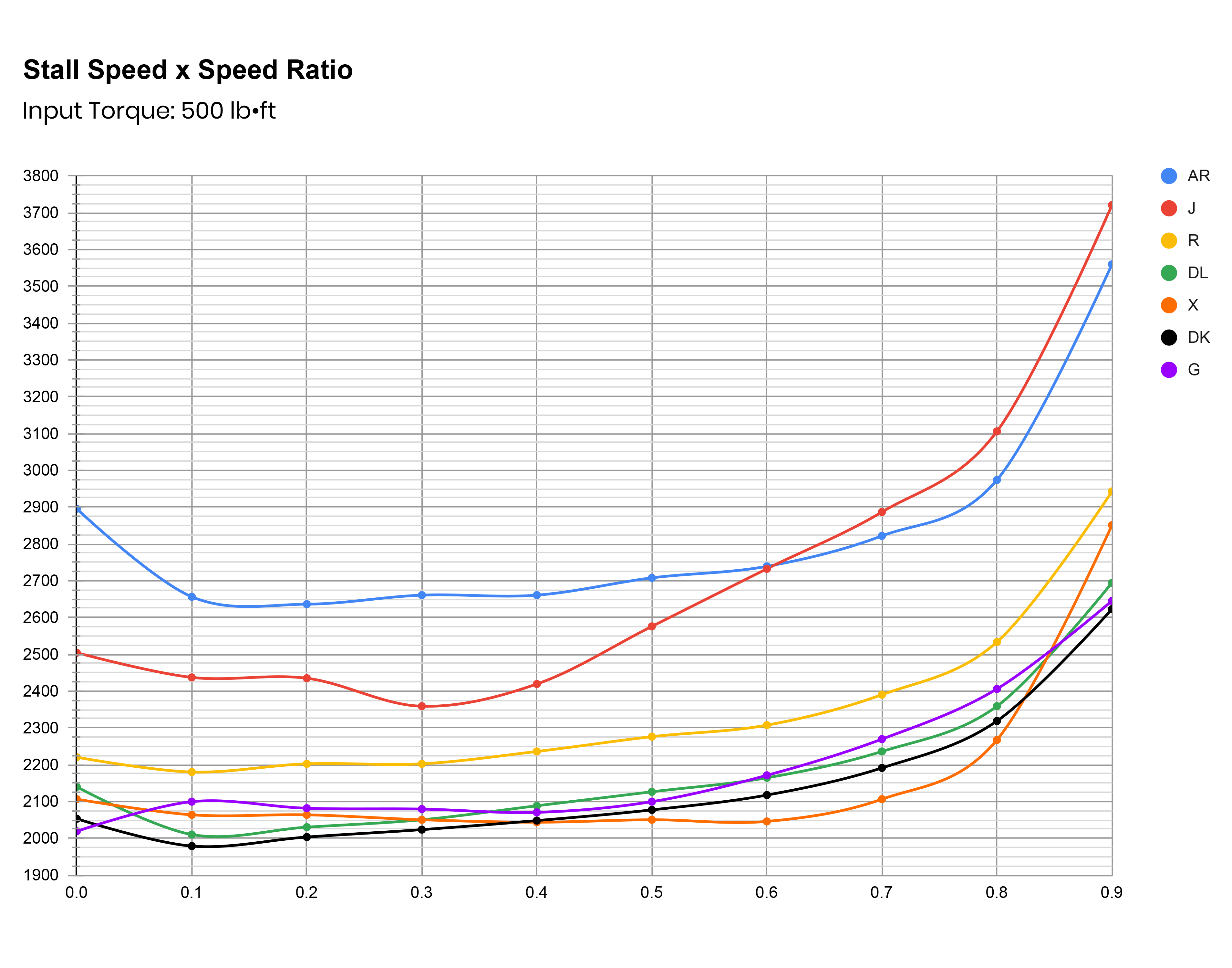 We are the only aftermarket torque converter manufacturer that has the equipment capable of testing for converter input torque, output torque, and dynamic torque. This data is critical in determining the stall speed, K-factor, and torque ratio of a given converter. This means we are the only manufacturer that can accurately give you this data for their torque converters, not just a guesswork figure based on incomplete data.
Our posted stall speeds are based on stock vehicles with an input torque of 500 lb•ft. Engine and other vehicle modifications will directly affect stall speed, including true, flash, and breakaway stall speed. All stall speeds are tested using our in-house dynamometer at a 0.0 speed ratio. All stall speeds, K-factors, and torque ratios are based on this 0.0 speed ratio.
Stall Speed: True stall speed is tested by putting the vehicle in drive and holding the throttle wide open while simultaneously holding the brake, so the vehicle remains stationary. When this happens, the torque converter will stall the engine at a certain RPM. When stalled, the engine will not be able to increase RPM until the vehicle is allowed to move. At this RPM, a true full stall is achieved. Do not test for true stall, as it can damage transmission shafts and overheat the torque converter. We have specialized equipment we use to perform this test. The stall speed of a converter is always dependent on engine torque.
Speed Ratio: A converter's speed ratio can be calculated using the given RPM of a converter's impeller and turbine. Speed ratio can be found using a simple equation. TURBINE RPM ÷ IMPELLER RPM = SPEED RATIO.
If a converter's impeller is rotating at 2500 RPM, while its turbine is rotating at 1800 RPM, we would know the converter's current speed ratio was 0.72. When the vehicle gets up to speed and the lock up clutch engages, the engine and impeller RPM will match the RPM of the turbine, resulting in a speed ratio of 1.0.
Torque Ratio: This number represents torque multiplication. For example, if a converter has a torque ratio of 1.8, then for every 100 lbs of input torque, the converter will deliver 180 lbs of output torque. The higher the torque ratio is, the better the vehicle's towing ability will be. One way to think of it is to think of a vehicle slowly driving over a street curb. The higher the torque ratio is, the easier it will be to jump the curb.
K-Factor: K-factor is a mathematical equation used to calculate torque converter performance. A dynamometer that can read both input torque and output torque is used to determine K-factor. The K-factor can be found using a simple equation. ENGINE RPM ÷ √INPUT TORQUE = K-FACTOR.
This equation can also be used to find the stall speed. If a vehicle has an input torque of 500 lb•ft, its square root of input torque would be 22.36. If multiplied by a K-factor of 100, the vehicle's stall speed would be 2236 RPM. Using the same torque converter, with a K-factor of 100, but changing the engine to produce 600 lb•ft of torque, the vehicle's stall speed would be 2449 RPM. The equation would now read as: √600 × 100 = 2449. A general rule of thumb is to remember that the higher the K-factor is, the higher the engine RPM will be.
Shipping Information
Item Requires Shipping
80.0 lbs.
W17.0000" x H17.0000" x L13.0000"
$50.00
This item ships in its own box.
Customer Reviews
Total Reviews (0)
You must login to post a review.
---
May We Suggest
---